ARCHERY Information
for 2020-2021
Please click the link BELOW to open the Archery Packet from Ms. Hansen.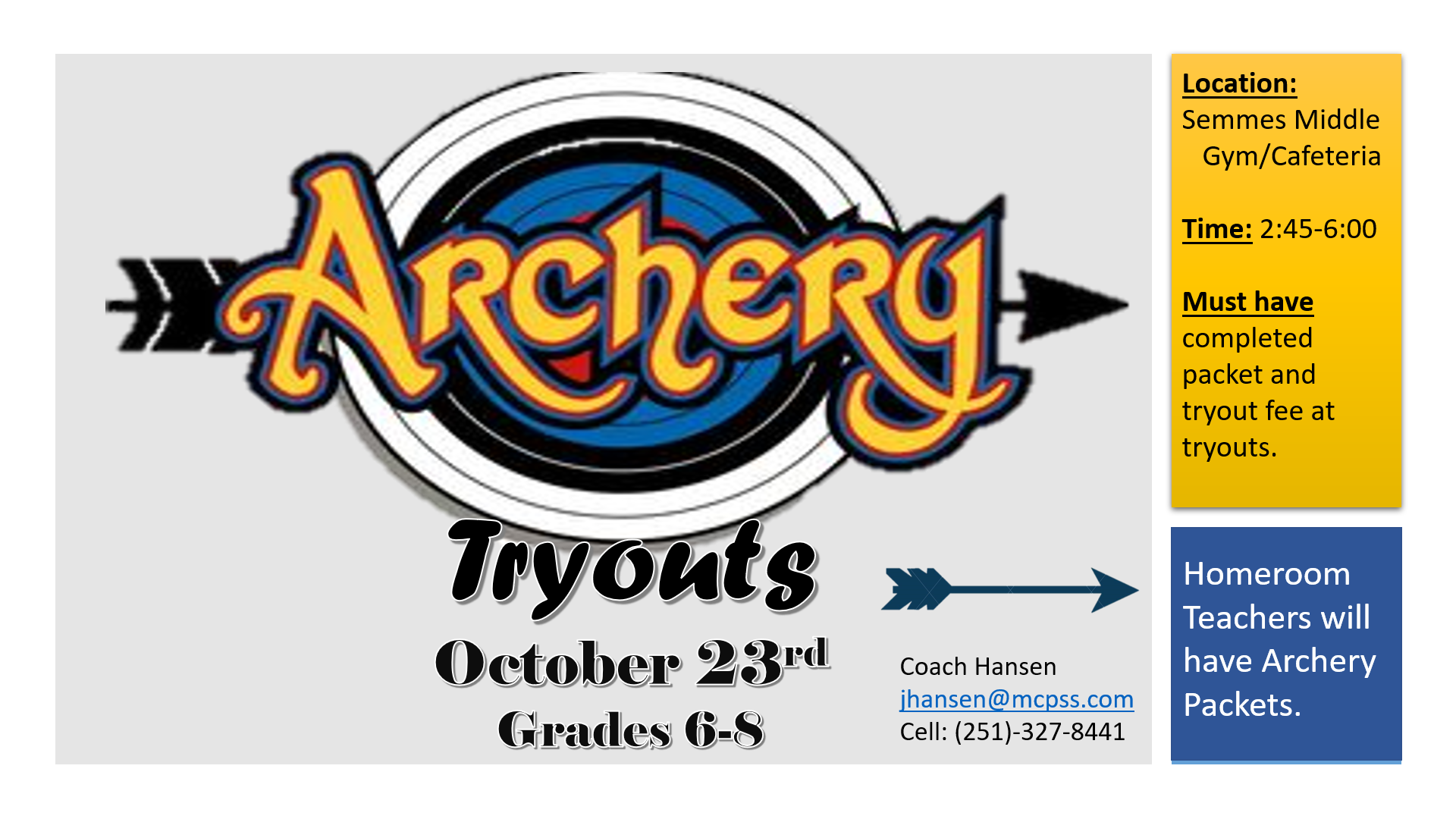 Basketball Information 2020-2021
Students in grades 7-8 who are interested in playing basketball this year can pick up a physical form in the front office or from Coach Darnell (Room 814) or Coach Stokley/ Coach Davis (Gym).
Students MUST have all Dragonfly paperwork completed and turned in by Friday, October 23, 2020 to the front office or their coach. There are no exceptions and no extensions; if you have not completed all required paperwork, you will not be able to try out.
Please see attached flyer to sign up for DragonFly and complete paperwork. When creating an account, choose ALL SPORTS TRYOUT 20-21.
Boys' tryouts:
Monday, October 26th and Tuesday, October 27th 2:40-5:00
Girls' tryouts:
Wednesday, October 28th and Thursday, October 29th from 2:40 – 4:30
All students trying out must adhere to the following:
• Be dressed and ready for practice(face-to-face students bring your practice clothes to school)
• Bring a filled water bottle (face-to-face students bring your water bottle to school).
• We will take temperatures when entering the gym for tryouts
• Practice will end promptly at 5:00 and parents must be on time to pick them up.
Parents must remain in the cars when dropping students off and picking them up. Please drop off and pick up at the gym entrance.
If you have any further questions, please call the school at 251-221-2344 or you may email Coach Darnell ddarnell@mcpss.com or Coach Stokley jstokley@mcpss.com.
IMPORTANT ATHLETIC PAPERWORK TO BE COMPLETED BEFORE ATTENDING ANY
PRACTICE/SPORTING EVENT AT SEMMES MIDDLE SCHOOL.
Every parent needs to create an account and ADD his or her athlete to the account. All Athletic required paperwork will need to be uploaded to Dragonfly.
Every athlete will need an updated physcial from a doctor's office.
20-21 AHSAA Concussion Form
20-21 AHSAA Consent to Participate
20-21 MCPSS Consent to Participate Insurance Form
20-21 COVID-19
Parent Agreement Form