**ONLINE LEARNING IS NOW COMPLETE**
Thank you to ALL the students, parents, faculty, and staff of Semmes Middle School for all of your hard work and dedication during 4th quarter.
Old Information
NEW DATE FOR TURNING IN STUDENT'S WORK:
All assignments, online and paper packets, are due ON OR BEFORE May 14.
You may place paper packets in containers located outside the gym lobby.
Students will have only six graded assignments for each subject for fourth quarter.
Please complete the assignments as soon as possible!
Semmes Middle School Online Learning
Having Technology Issues?
For all technology issues, please complete the form below. In the message section, please be as detailed as you can.
Need assistance with registration for next year?
Please complete the form below to send a message to our registrar, Ms. Miller for all registration questions for next year.
Need Assistance with Special Education Services?
For all questions regarding special education services and assistance, please fill out the form below for Mrs. Evans.
How do I turn in completed work from my packets?
If your student is completing the Academic packets, we have placed bins outside the gym lobby to collect student's work. Please make every effort to turn in the required Minor/Major grades and make sure students' names are on all work being turned in. You may call the school if you have any questions, 221-2344.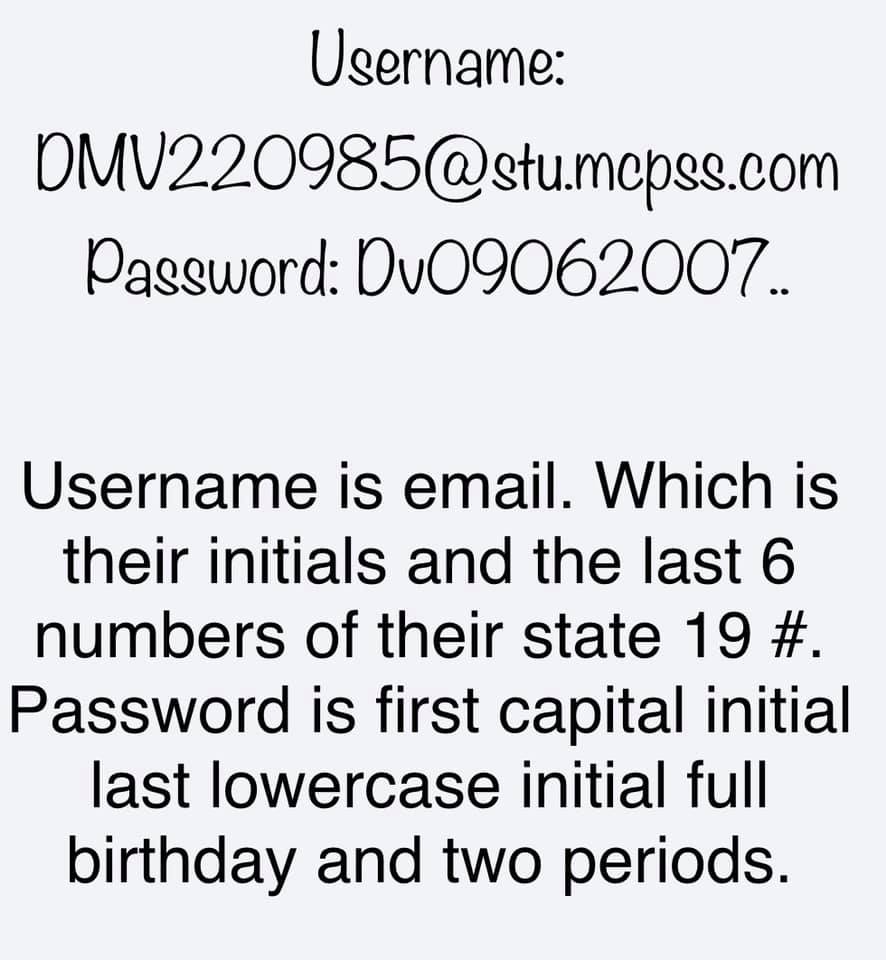 How to Log in to Google Classroom
How Students Complete Assignments on Google Classroom
How to Use Your Phone to Upload Assignments to Google Classroom
Google Meet Basics for Students Using Google Classroom
Governor Kay Ivey has made the decision to close all Alabama schools FOR TRADITIONAL FACE-TO-FACE SCHOOLING for the remainder of the 2019-2020 school year.
During this time, we want to ensure the educational process continues for every student through the virtual classrooms and additional resources created by our teachers and staff. You may access your teacher's classroom by locating his or her name below. Please click on the teacher's name to find the "Classroom Codes" for each period and to access the platform. You will also have direct access to communicate via email with your child's teacher.

How to Access MCPSS Student Email
May be accessed using a PC, laptop, tablet, or phone.
May be accessed using a PC, laptop, tablet, or phone.
*This platform is used by Ms. Snowden's 6th Grade Advanced Social Studies.
May be accessed using a PC, laptop, tablet, or phone. *This platform is being used by 7th Grade LA teachers: Mrs. Hansen, Mrs. Golemon, Mrs. Lepiane,and Mrs. Steadham and Mr. Kelly.
Google Classroom on the XBox
Google Classroom Tutorial and Student Guide
Accessing your Teachers' Classrooms
Counseling
Intervention
Special Services